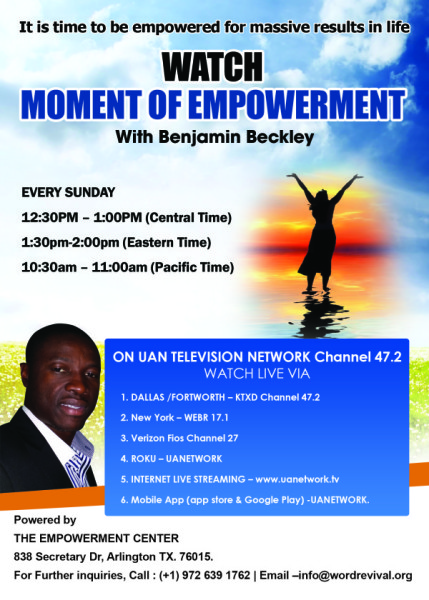 Watch moment of Empowerment with Benjamin Beckley EVERY SUNDAY : 12:30pm – 1:00pm (Central time) . 1:30pm – 2:00pm (Eastern Time). 6:30pm – 7:00pm (Nigeria/Uk Time). Watch on UANETWORK.. KTXD CHANNEL 47.2. ((Dallas). MY NETWORK TV CHANNEL 49.1 (NEW YORK).
You can also watch LIVE via the following
– VERIZION FIOS -Channel 27.
– ROKU : Search for UANETWORK
– INTERNET STREAMING : www.uanetwork.tv
– MOBILE APP (Android, Apple) – Download UANETWORK.

No matter where you are in the world you can connect to THE WORD….